Venezuelan management. A perspective from social representations
Abstract
The object of this research was to interpret the Social Representations (SR) present in Venezuelan Management in organizations of complex nature considering their comprehension and action through administrative practices, organizational models, emotions, expectations, and attitudes, which form the general praxis. The theoretical approach follows the models by Moscovici, Jodelet, and Abric. Morin points out that complex thought is dialogical; this trend does not object to the data of experience nor the validity of the laws of nature and the logic behind these sciences. In the research, the complexity of methods was assumed by using complementation (Bericat, 1988), resorting to methods circumscribed to the interpretative paradigm. Data obtained were handled via Spink's analysis methodology. The outcomes show the presence of two logics in Venezuelan management where the reality between the object and the observer subject is inscribed in a new approach of realities, complexities, and varieties, emerging organizations which move between the principles of uncertainty and complexity in the everydayness.
Authors
Leslie Borjas

Dilia Margarita Monasterio Gonzalez
Downloads
Download data is not yet available.
Keywords
social representation
management
complexity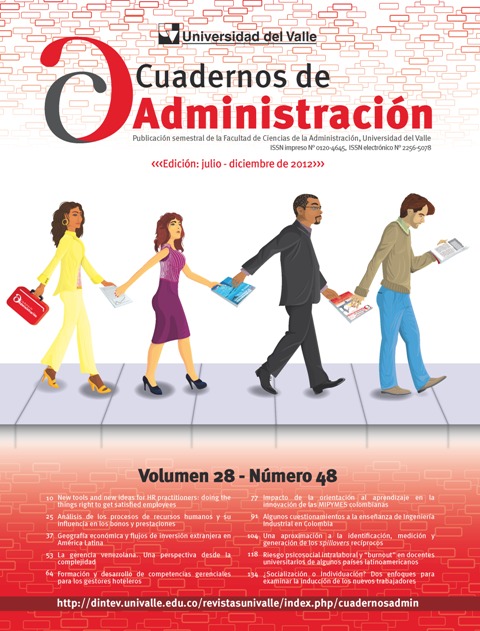 | 49 |
How to Cite
Borjas, L., & Monasterio Gonzalez, D. (2013). Venezuelan management. A perspective from social representations. Cuadernos De Administración, 28(48), 53-63. https://doi.org/10.25100/cdea.v28i48.455