A MODEL OF KNOWLEDGE MANAGEMENT SUPPORTED IN TECHNOLOGY WATCHING AND COMPETlTIVE INTElliGENCE FOR THE PRODUCTIVE CHAlNS OF ISABEllA's GRAPE ON THE BIOREGION OF VALLE DEL CAUCA
Abstract
In order to contribute the improvement of the competitiveness of the Isabella's grape productive chain, taking advantage of "the intellectual and social" capital generated by the execution of several projects in the microregion of th..: Valle del Cauca, composed by the municipalities ofGinebra, el Cerrito and Guacarí, was made a study on management of the knowledge and models applied to the organizations, from which a model of own elaboration seted out, supported in Technology Watch and Competitive Intelligence (CIITW) to give specially answer to the problematic that Colombian fruit productive chains faces, by the exigencies ofthe market. The work was focused in the implementation of a Safety Securing System, based in an analysis of the conditions necessary to obtain the competitiveness.
Authors
Samuel Galeano Patiño

Myriam Sánchez Mejía

Marco Villarreal
Downloads
Download data is not yet available.
Keywords
Knowledge Management
Knowledge Management Models
Technology Watch
Competitive Intelligence
Safety Securing System productive chain
Isabella grape.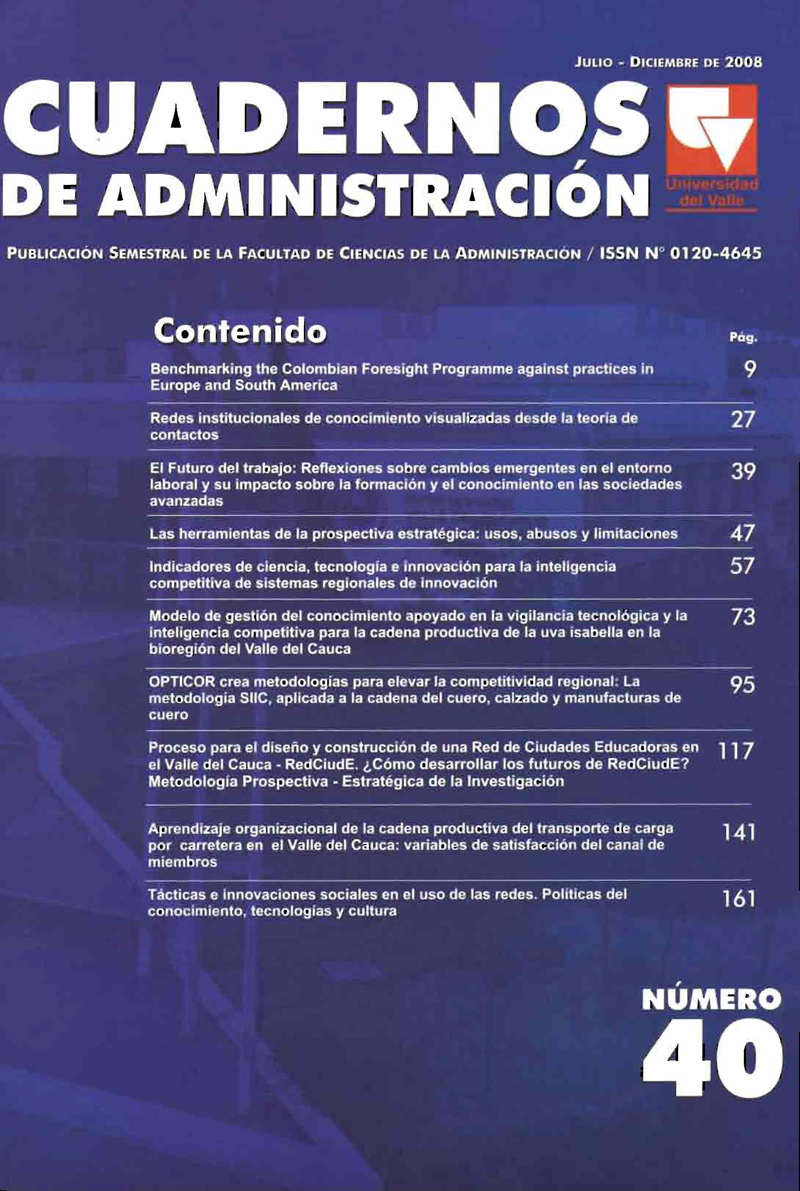 | 345 |
How to Cite
Galeano Patiño, S., Sánchez Mejía, M., & Villarreal, M. (2011). A MODEL OF KNOWLEDGE MANAGEMENT SUPPORTED IN TECHNOLOGY WATCHING AND COMPETlTIVE INTElliGENCE FOR THE PRODUCTIVE CHAlNS OF ISABEllA's GRAPE ON THE BIOREGION OF VALLE DEL CAUCA. Cuadernos De Administración, 24(40), 73-93. https://doi.org/10.25100/cdea.v24i40.405