Ethical factors influencing the competitiveness of enterprises in the Quindio province, Colombia
Abstract
Here are condensed aspects of research describing the importance of ethical factors as determinants of competitiveness; this analysis was performed in 2014, specifically in medium-sized enterprises of the Quindio province, which is estimated as an understudied factor in the environment of competitiveness theories, and among the factors that enable productivity increments. The methodology used here established three stages: a) collection of related information, for stating the problem and the theoretical framework; b) 167 surveys applied to workers of the relevant firms; c) 24 interviews with people who will develop managerial tasks with a second round in focus groups with the same entrepreneurs, to validate the collected information. During the research, the differences in the conception of ethics among workers and administrative personnel were confirmed, which presents a different scenario for each analyzed group. This heterogeneity of ethical experiences allowed to establish four categories of ethical aspects; they are the moral values in human management, ethics in marketing, the ecological management of resources, and transparency in the macro environment. The research showed the importance of ethics for workers as a competitiveness factor, despite the little relevance attached to it in practice; and the external factors for entrepreneurs, such as corruption, lack of transparency, and the fact that moral habits in public administration is the most influential aspect in business competitiveness
Authors
Josué Vladimir Ramírez-Tarazona
Downloads
Download data is not yet available.
Keywords
competitiveness
corruption
enterprise
entrepreneur
ethics
worker
transparency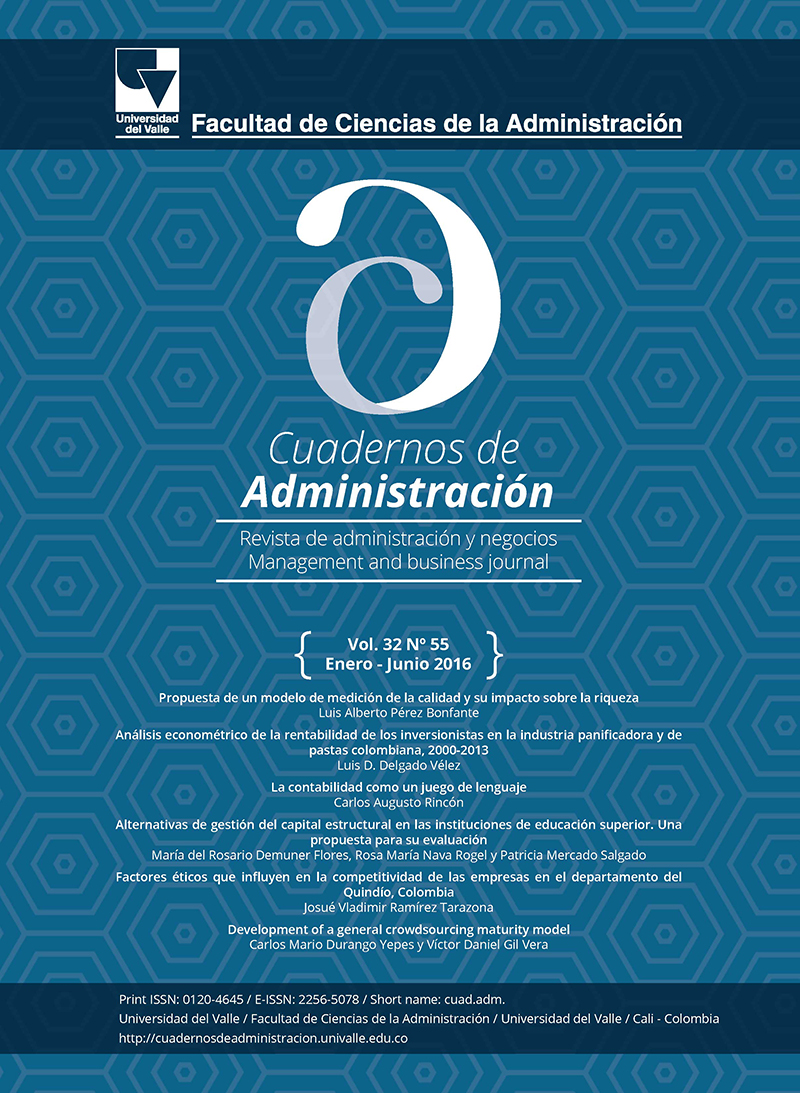 | 166 |
How to Cite
Ramírez-Tarazona, J. (2016). Ethical factors influencing the competitiveness of enterprises in the Quindio province, Colombia. Cuadernos De Administración, 32(55), 59-71. https://doi.org/10.25100/cdea.v32i55.4258
Copyright (c) 2017 Cuadernos de Administración
This work is licensed under a Creative Commons Attribution-NonCommercial-NoDerivatives 4.0 International License.