Proposal for a model of quality measurement and its impact on wealth
Abstract
Quality, according to its implementations and publications, has become a tool for business improvement. In the same way, the economic value added (EVA) is becoming a powerful mechanism for managing and exposure of its economic performance. The proposal presented in this article makes a combination of indicators to measure the management of the Effective Operational Quality (CEO, for its initials in Spanish) and its articulation with EVA, thus contributing to the development of the wealth of the company's owners, characteristic of the neoliberal model. The article is structured through three sections. In the first one, the elements of conceptual order regarding the quality and management of the EVA are exposed; in the second section, it is described the model for measuring Effective Operational Quality, along with its implementation; finally, a series of conclusions are formulated, which drive to keep investigating the issues and their articulation, in order to contribute towards building more competitive organizations.
Authors
Luis Alberto Pérez-Bonfante
Downloads
Download data is not yet available.
Keywords
quality
economic quality
added value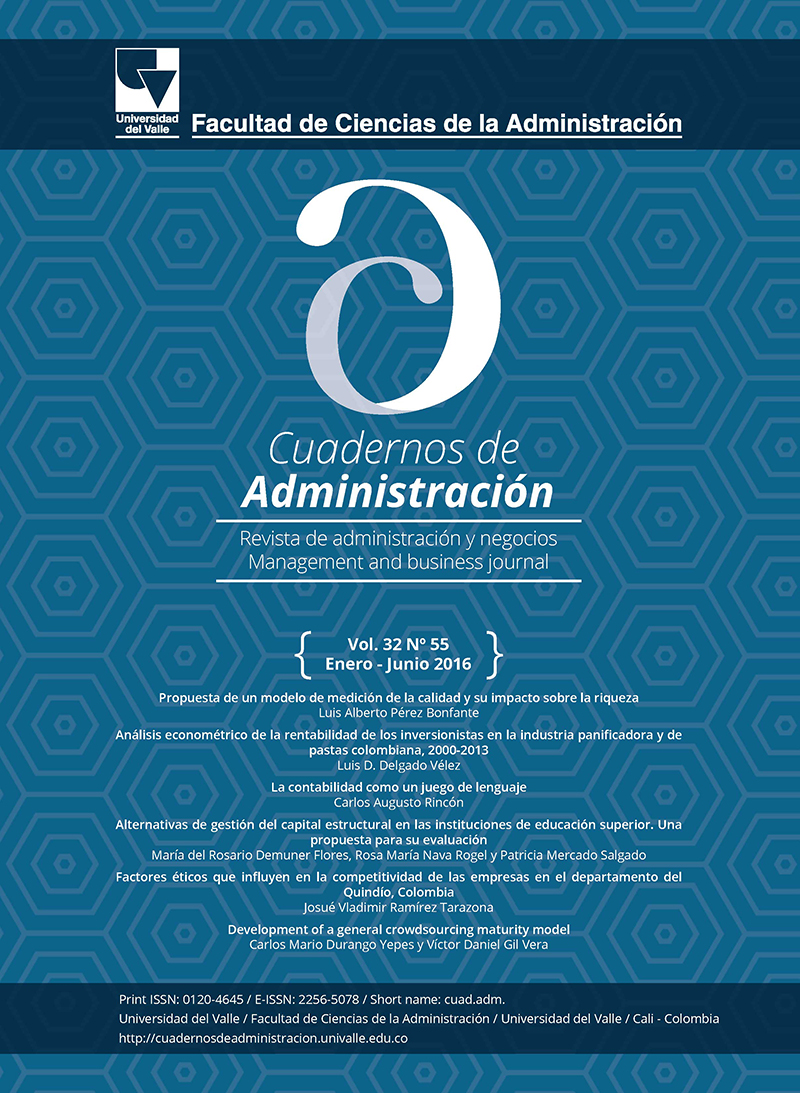 | 90 |
How to Cite
Pérez-Bonfante, L. (2016). Proposal for a model of quality measurement and its impact on wealth. Cuadernos De Administración, 32(55), 7-18. https://doi.org/10.25100/cdea.v32i55.4254
Copyright (c) 2017 Cuadernos de Administración
This work is licensed under a Creative Commons Attribution-NonCommercial-NoDerivatives 4.0 International License.