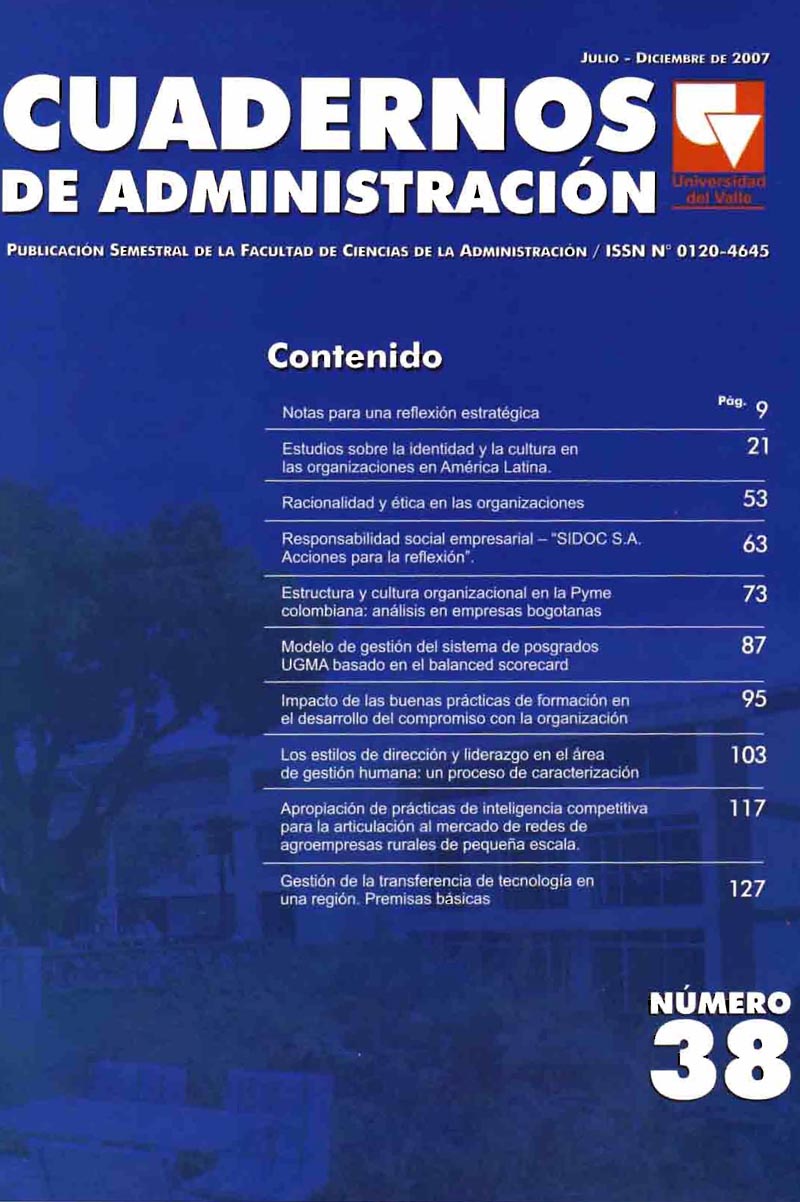 ORGANIZATlONAL STRUCTURE AND CULTURE IN THE COLOMBIAN SMALL AND MEDlUM ENTERPRlSE (SMES): ÁNALYSIS IN BOGOTA COMPANIES
SMEs organizational structure organizational culture management organizational components MMGO operational protit stakeholders.
Main Article Content
SMEs (small and medium sized enterprises) play a key roJe in Ihe Colombian economy. "They represent 96.4% of the number of establishments in Colombia, contribute lo 63% of national employment; with 45% of manufacturing production, 40% of wages and 37% of the value added. There are more than 650,000 ernployers paying contributions to the social security system". (businesscol.com, 2007). This empirical study in a group of Bogotá 's SMEs, shows the state of the management of culture and organizational structure and its impact on other variables, as innovation and knowledge, human management, partnership, communication and information and strategic management. which are mandato!)' managed by the senior management of organizations, as well as its irnpact in the operational profit as the key measure to the contribution of wealth to the stakeholders of a company. Sorne of the hypotheses are tested completely, sorne partiaJly and others are rejected introducing new observations 
in
regard to the two components analyzed.
Pérez Uribe, R. (2011). ORGANIZATlONAL STRUCTURE AND CULTURE IN THE COLOMBIAN SMALL AND MEDlUM ENTERPRlSE (SMES): ÁNALYSIS IN BOGOTA COMPANIES. Cuadernos De Administración, 23(38), 73–85. https://doi.org/10.25100/cdea.v23i38.370