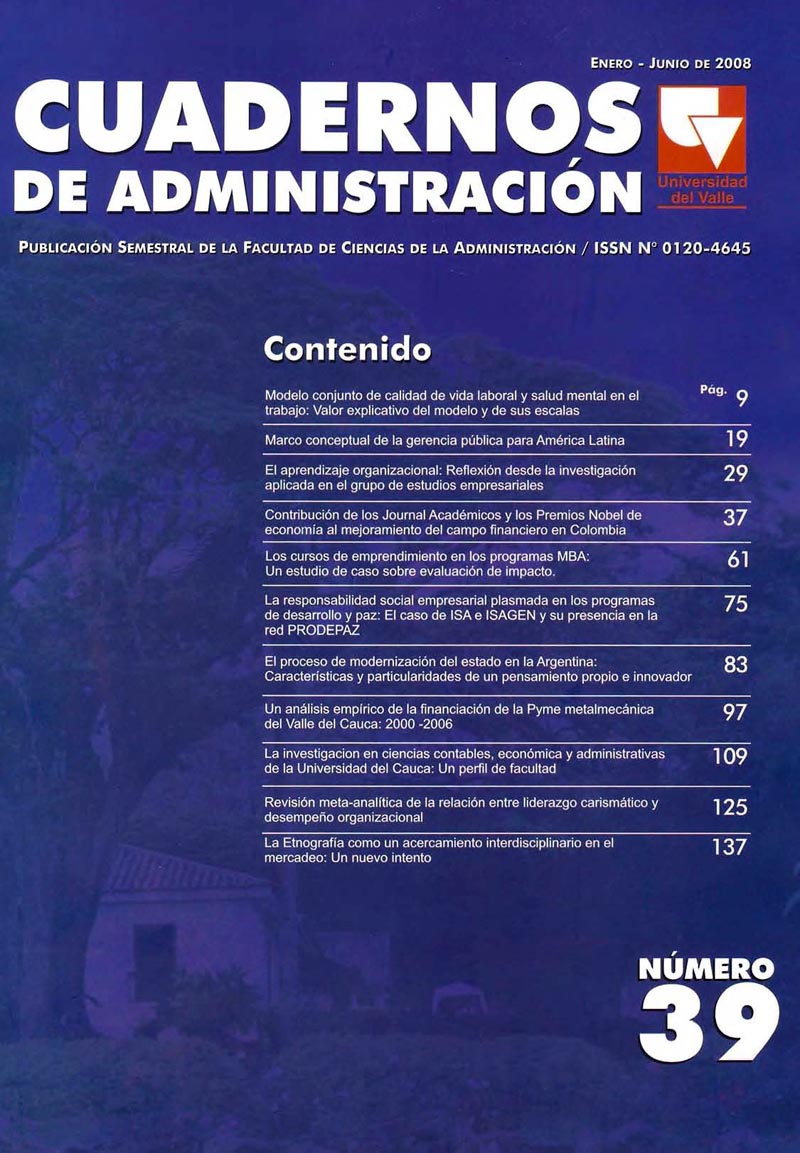 ENTREPRENEURSHIP COURSES IN MBA PROGRAMS: A CASE STUDY ON IMPACT ASSESSMENT
Entrepreneurship business creation entrepreneurship spirit MBA entrepreneurship capacity.
Main Article Content
Faced with the new trends of globalization and knowledge economy, strengthening entrepreneurship has become a development strategy, followed by a large number of coulltries, regardless of their level of economic and social development, such as India, the United States, United Kingdom, Canada and Chile (Angelelli alld Llisterri, 2003; Bygrave, 1998).
In Colombia, since the beginning ofthe eighties, both the State and the uníversities, has given a strong impetus to business creation and entrepreneurship development. Amid this great activity one might ask, What is the contributioll of these courses to the development of its participants?
This research incorporates the experience of the past 7 years of the MBA program of INALDE University ofLa Sabana with its course NAVES. The study presents encouraging data but also shows c1ear weaknesses: 32% of the projects of the NAVES course have begun work as companies legally constituted and 46% of graduates has conducted a start up . These percentages show that the goal of developing entrepreneurship has been achieved.
Sepúlveda, P., Zúñiga, F., & Fracica, G. (2011). ENTREPRENEURSHIP COURSES IN MBA PROGRAMS: A CASE STUDY ON IMPACT ASSESSMENT. Cuadernos De Administración, 24(39), 61–74. https://doi.org/10.25100/cdea.v24i39.381