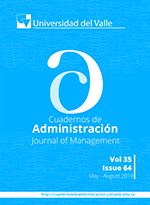 Bounded financial rationality by owners or administrators of mexican micro-enterprises
Bounded rationality MSMEs Finance Management
Main Article Content
The Limited Financial Rationality by Owners or Administrators of Mexican Micro-Enterprises work aims to evaluate the rationality limited per responsible individual subjected to choosing the direction to follow that allows survival in the market. Empirical research is based on a data collection instrument applied to a sample of microenterprises. The main objective is to hierarchically categorize behaviors, ideas and orientations that explain rational construction by owners or managers towards financial decision making. Our contribution is the construction of a behavioral map by micro-entrepreneurs under two financial rationalities, strong and weak, determined by the learning curve (learning by doing). Where the model did prove that limited financial rationality is positively influenced by business maturity explained by the analogy between intuition and the financial situational perception of the microentrepreneur, which is guided by learning, knowledge, risk aversion and is not only defined by the business scale.
Palacios-Duarte, P. D., Pérez-Paredes, A., & Torralba-Flores, A. (2019). Bounded financial rationality by owners or administrators of mexican micro-enterprises. Cuadernos De Administración, 35(64), 78–95. https://doi.org/10.25100/cdea.v35i64.6355
Ahi, A., Baronchelli, G., Kuivalainen, O., & Piantoni, M. (2017). International Market Entry: How Do Small and Medium-Sized Enterprises Make Decisions? Journal of International Marketing, 25(1), 1-21.
Arrow, K. J. (1951). Social choice and individual values. New York, USA: Wiley.
Arrow, K. J. (1959). Rational choice functions and orderings. Economica, 26(102), 121-127. DOI: 10.2307/2550390.
Álvarez, M., & Abreu, J. L. (2008). Estrategias financieras en la pequeña y mediana empresa. International Journal of Good Conscience), 3(2), 64-105.
Bakka, J. F., Lindkvist, L., & Fivelsdal, E. (2001). Organisationsteori: struktur, kultur, processer (4 ed.) Malmø, Sweden: Liber.
Barnard, C., & Simon, H. A. (1947). Administrative behavior. A study of decision-making processes in administrative organization. New York, USA: Free Press.
Barros, G. (2010). Herbert A. Simon and the concept of rationality: boundaries and procedures. Revista de economia política, 30(3), 455-472. http://dx.doi.org/10.1590/S0101-31572010000300006
Becerra, G. Y. M., & Sandoval, I. M. (2009). La administración financiera: una utopía en las microempresas. Criterio libre, (11), 123-144.
Bracker, J., & Pearson, J. N. (1986). Planning and financial performance of small, mature firms. Strategic Management Journal, 7(6), 503-522.
Caloca Osorio, O. R., & Briseño Martínez, N. (2016). Crítica de la teoría de la elección racional: esquema administrativo de competencia y cooperación. Recuperado de http://gestionyestrategia.azc.uam.mx/index.php/rge/article/view/559
Coase, R. (1937). The Nature of the Firm. Economics 4, 386-405.
Correa, J. A. (2007). Material de apoyo del Proyecto de Aula: Análisis Contable. Medellín, Colombia: Departamento de Ciencias Contables, Universidad de Antioquia.
Correa, J. A., y Jaramillo, F. (2007). Una aproximación metodológica y prospectiva a la gestión financiera en las pequeñas empresas. Contaduría Universidad de Antioquia, 50, 93-118.
de Lurdes Calisto, M. (2017, December). Senior-level Managers' Traits and the Assessment of Intrapreneurial Behaviour–Exploring the Relevance of Bounded Rationality (p. 42). In ECMLG2017 13th European Conference on Management, Leadership and Governance: ECMLG 2017 Academic Conferences and publishing limited, London, UK.
Diéguez Castrillón, M., Sinde Cantorna, A. I., y Gueimonde Canto, A. (2014). Actividad empresarial y resultados percibidos más allá de la racionalidad económica: el caso del turismo rural. PASOS. Revista de Turismo y Patrimonio Cultural, 12(1), 79-93.
Dimaggio, P. J., y Powell, W. W. (2001). Retorno a la jaula de hierro: el isomorfismo institucional y la racionalidad colectiva en los campos organizacionales (pp. 104-125). En P. J. DiMaggio, y W. W. Powell (Comps.), El nuevo institucionalismo en el análisis organizacional. México D.F., México: Fondo de Cultura Económica.
Espinosa Luna, C. (2016). ¿Cómo se toman las decisiones organizacionales? Una revisión clásica. Sociológica, 31(87), 43-78.
Estrada, F. (2008). Economía y racionalidad de las organizaciones. Los aportes de Herbert A. Simon. Revista de Estudios Sociales, (31), 84-103.
Farfán Liévano, M. A. (2010). La contabilidad de direccionamiento estratégico como oportunidad de desarrollo empresarial en las Pymes. Cuadernos de Contabilidad, 11(29), 347-365.
Fosado, R. L. (2007). Información financiera en las MIPYMES. Revista del Centro de Investigación de la Universidad la Salle, 7(27), 67-75.
González, F. A. (2004). Teoría de la decisión e incertidumbre: modelos normativos y descriptivos. Empiria. Revista de Metodología de Ciencias Sociales, (8), 139-160.
Hallen, B. L., & Pahnke, E. C. (2016). When do entrepreneurs accurately evaluate venture capital firms' track records? A bounded rationality perspective. Academy of Management Journal, 59(5), 1535-1560.
INEGI. (2018). Esperanza de vida de los negocios en México. Recuperado de http://www.inegi.org.mx/inegi/contenidos/investigacion/experimentales/esperanza/default.aspx
Jones, G. R. (1987). Organization-client transactions and organizational governance structures. Academy of Management Journal, 30(2), 197-218. DOI: 10.2307/256270.
Kahneman, D., & Tversky, A. (Eds.). (2000). Choices, values, and frames. New York, USA: Cambridge University Press.
Kahneman, D. (2003). A perspective on judgment and choice: mapping bounded rationality. American psychologist, 58(9), 697-720.
López, R. A. C., y Quintero, M. G. (2011). Las instituciones micro financieras: ¿satisfacen las necesidades de financiamiento de los microempresarios en el distrito federal. Recuperado de http://132.248.164.227/congreso/docs/xv/docs/87.pdf
Macagnan, C. B. (2013). Teoría Institucional: Escrito teórico sobre los protagonistas de la escuela institucionalista de economía. BASE – Revista de Administração e Contabilidade da Unisinos, 10(2). 130-141.
Medina Quintero, J. M., de La Garza Ramos, M. I., y García Pedroche, E. (2008). Influencia de las prácticas de liderazgo en las finanzas y toma de decisiones de las PyMes. Investigación Administrativa, (101), 17-27
Müller, A. (2009). Teoría de la firma, teoría del mercado y teoría económica: una reflexión. Desarrollo Económico, 49(194), 335-350.
Nava Rosillón, M. A. (2009). Análisis financiero: una herramienta clave para una gestión financiera eficiente. Revista venezolana de Gerencia, 14(48), 606-628.
Okasha, S. (2011). Theory choice and social choice: Kuhn versus Arrow. Oxford University Press, 120(477), 83-115.
Putterman, L., & Kroszner, R. S. (Eds.). (1996). The economic nature of the firm: A reader. Cambrige, U.K: Cambridge University Press.
Rubio D., P. (2007). Manual de Análisis Financiero. Malaga, España: Universidad de Málaga.
Red PYMES-Cumex (2010). Un estudio comparativo del perfil financiero y administrativo de las pequeñas empresas en México: entidades del Estado de México, Hidalgo, Puebla, Sonora y Tamaulipas. Resultados finales. Revista del Centro de Investigación, 9(33), 5-30
Saavedra García, M. L., & Espíndola Armenta, G. (2016). El uso de la planeación financiera en las PyME de ti de México. Ciencias Administrativas, (8), 15-31.
Salgado C., y Elvira. (2003). Teoría de costos de transacción: una breve reseña. Cuadernos de Administración, 16(26), 61-78.
Sandoval, L. L., y Abreu, J. L. (2008). Los Estados Financieros Básicos, su uso e interpretación para la toma decisiones en las MIPYMES. Revista Daena: International Journal of Good Conscience, 3(2), 152-186.
Simon, H. A. (1957). Models of Man, Social and Rational: Mathematical Essays on Rational Human Behavior in a Social Setting. New York, USA: John Wiley and Sons.
Simon, H. A. (1976) Administrative Behavior. A Study of Decision-Making Processes in Administrative Organization (3 ed.). London, UK: Collier Macmillan Publishers.
Surma, J. (2015). Case‐based approach for supporting strategy decision making. Expert Systems, 32(4), 546-554.
Vargas Arévalo, H. (2003). Consideraciones Prácticas para la Gestión de Capital de Trabajo en las Pymes Innovadoras. Revista Escuela de Administración de Negocios, (47), 98–109.
Vidal de la Rosa, G. (2008). La Teoría de la Elección Racional en las ciencias sociales. Sociológica, 23(67), 221-236.
Williamson, O. E. (1973). Markets and hierarchies: some elementary considerations. The American economic review, 63(2), 316-325.
Williamson O. E. (1979). Transaction Cost Economics: The Governance of Contractual Relations. Journal of Law and Economics, (22), 233-261.