Economic geography and foreign investment flow in Latin America
Abstract
Using a gravity investment model, this paper analyzes the determinants of bilateral foreign direct investment inflows (FDI) in some Latin American countries. It incorporates some elements that have been addressed by the New Economic Geography, comparing and controlling by the weight of the factors directly related to FDI. The analysis includes variables related to: (i) potential investment, like the market and commercial size of the countries and their investment partners; (ii) predetermined and historically rooted factors, like geographic distance, frontiers, and common language; and (iii) dummies for institutional and governmental factors that explain restrictions and investment incentives, like participation in trade and investment agreements, and the grants of preferential access. The paper finds that distance and potential investment variables play a role in shaping investment patterns in some countries of the region.
Authors
Juan Gabriel Vanegas Lopez

Jorge Aníbal Restrepo Morales

Guberney Muñeton Santa
Downloads
Download data is not yet available.
Keywords
foreign direct investment
new economic geography
gravity model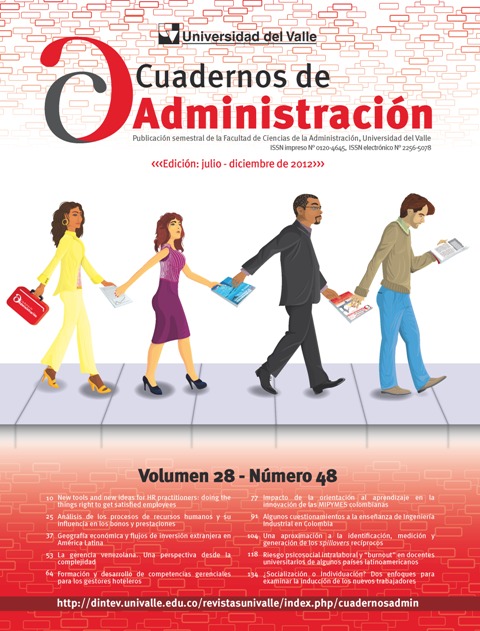 | 15 |
How to Cite
Vanegas Lopez, J., Restrepo Morales, J., & Muñeton Santa, G. (2013). Economic geography and foreign investment flow in Latin America. Cuadernos De Administración, 28(48), 37-52. https://doi.org/10.25100/cdea.v28i48.454