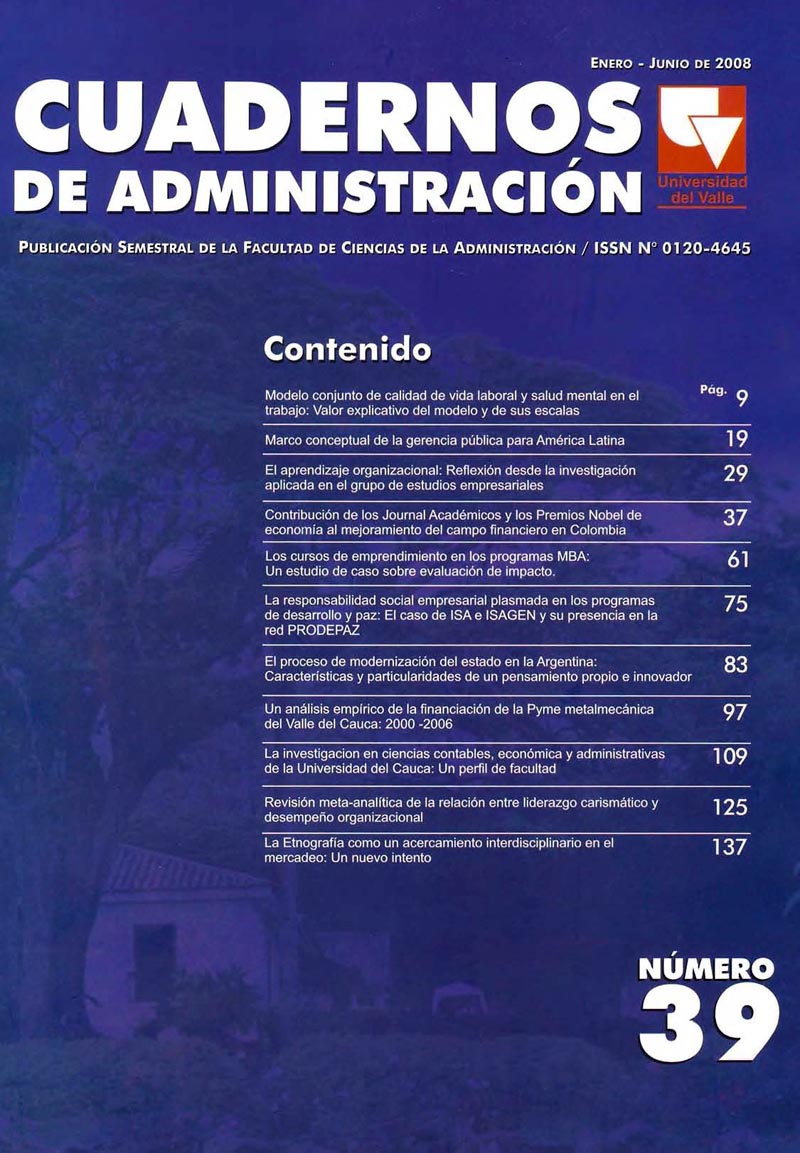 CONTRIBUTION OF THE ACADEMIC JOURNALS AND THE NOBEL PRIZES IN ECONOMY TO THE IMPROVEMENT OF THE FINANCIAL DOMAIN IN COLOMBIA.
academic joumals fmance academic syllabus Financial Economics Nobel prize in Economic Science.
Main Article Content
The following article shows, in first place, the main advantages ofthe on-line data base http://www.jstor.org as an important consultation and research source for academic programs in the financial domain. Besides that, shows journal and American universities influence on the design of finance doctoral education, supporting that mainly in a survey developed by Corrado y Ferris (1997) , between various similar researches; and establishing this analysis as a model of reference to be in use in academic syllabus quality improvement in the financial domain, and more specifically, in Financial Markets area for the Colombian case. It also presents a brief analysis about the relevance of Economics Nobel awards in the financial domain together with a short synthesis of the evolution of economic thought and Financial Economics. Finally, it concludes that there exists a strong relationship between finance leader journals , the most important universities and the contribution of Economic Science's prizes in this domain.
Monroy D'croz, J. D. (2011). CONTRIBUTION OF THE ACADEMIC JOURNALS AND THE NOBEL PRIZES IN ECONOMY TO THE IMPROVEMENT OF THE FINANCIAL DOMAIN IN COLOMBIA. Cuadernos De Administración, 24(39), 37–60. https://doi.org/10.25100/cdea.v24i39.380