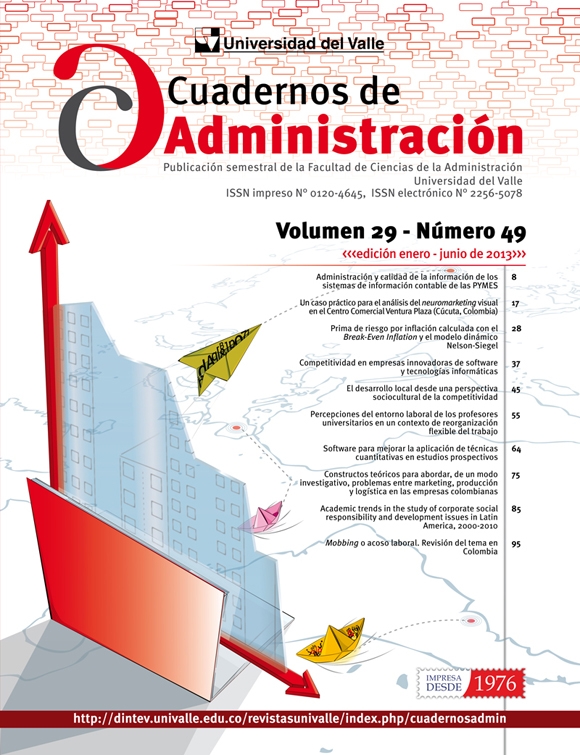 A case study for the analysis of visual neuromarketing in Plaza Ventura (Cucuta-Colombia)
neuromarketing neuroscience marketing brain visual perception
Main Article Content
Progress in psychology, neuroscience, and cognitive fields and comprehension of the functioning of the human brain has enabled other disciplines and areas of knowledge to formulate new theories. This is the case of marketing, which by using recent discoveries at cerebral level has incorporated strategies to attract clients. The article is a review of the practices of 124 visual neuromarketing establishments at Ventura Plaza Mall, the largest in the city of Cucuta (Norte de Santander, Colombia). The sample was represented by 71 textile establishments, 25 food vendors, 11 entertainment establishments, five book stores, and 12 appliance stores. The aforementioned was applied to a matrix compiling information on the external and internal image of establishments serving the use of color, light, and photographic images. The results show that a good percentage of the establishments apply neuromarketing principles associated with the perception of color, light, and photographic images.
Avendaño Castro, W. R. (2013). A case study for the analysis of visual neuromarketing in Plaza Ventura (Cucuta-Colombia). Cuadernos De Administración, 29(49), 17–27. https://doi.org/10.25100/cdea.v29i49.60
Downloads
Download data is not yet available.